City or nature? Why choose? Sam Horine, a photographer based in Seattle, WA, shoots both. As a New York transplant, you can appreciate the hustle and bustle of the city, yet appreciate so much more when you get to escape into nature.
Meet Sam
How did you get started in photography? What most interested you about shooting
landscapes and nature?
I'd always been interested in taking photos, starting with developing my own film in high school but it wasn't until I moved to NYC that I started to take it seriously. I first built my career shooting music, food, and events for New York-based publications, though in the last 10 years I've moved away from editorial and more towards commercial works. 
How would you describe your photography style? How has it changed over the years?
I think that all the years of working as a photojournalist really shaped my aesthetic for storytelling. Whether that be finding the one shot that encompasses the entire story or else building it out over a series.
Tell us about one of your favorite outdoor adventures. What made this trip memorable?
Recently I was in Japan (February though it sure feels like forever ago) shooting an assignment and I had to navigate from region to region entirely on my own using nothing more than public transportation. While it was certainly nerve-wracking navigating day to day  the sense of accomplishment at the end of the day when you were at the right hotel was amazing. 
What's in your camera bag right now? 
Usually, I have a couple DSLR's and drone with me on jobs though have also been spending some time lately getting back to basics with a Contax 35mm film camera. Lastly, my LARQ goes wherever I go.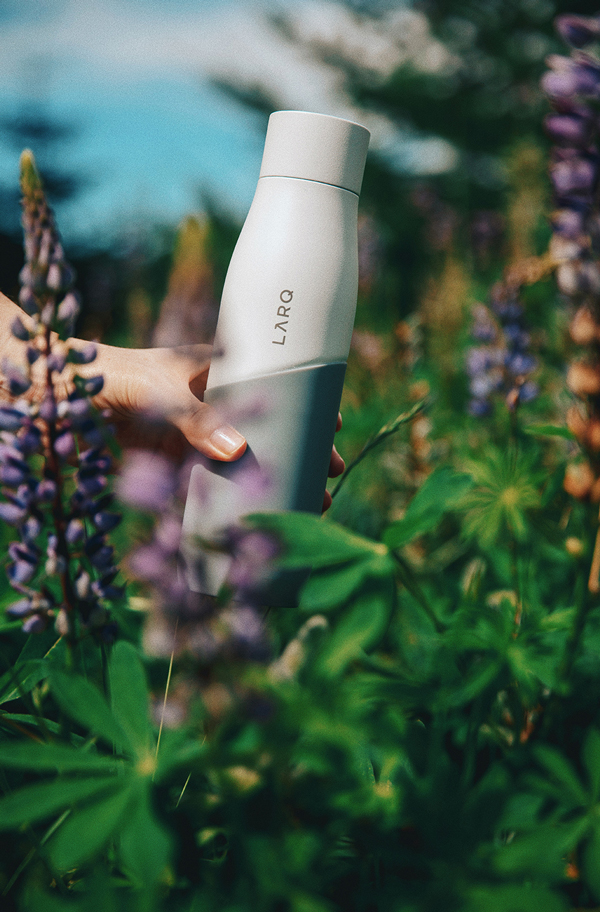 What do you like to do in your free time?
Running a the photography business does take up the majority of my time to be honest – going on actual shoots is maybe 10% of the biz while the other 90% is planning, editing, website, social media, billing, etc etc but I do try and find time to step away and when I am able to I enjoy running, biking, cooking and wine. 
How do you stay hydrated on the go? What do you love about LARQ?
The LARQ self-cleaning bottles are amazing – no more nasty smells! 
Tell us something about yourself that might surprise people.
I really had no plans to ever pursue photography professionally until a friend of mine asked me to shoot some images for her newspaper column. I bought a camera for the shoot and the editor ended up loving the shots and kept hiring me for a few years which encouraged me to transition into taking photography more seriously. 
What kind of causes or nonprofits do you support? Why are they important to you?
I've always been of the mindset that it's imperative to give back so throughout the years I've been active in disaster relief efforts and nature conservancy efforts. Though lately, the majority of my efforts have been towards furthering civil rights and equal justice initiatives. 
What do you like most about what you do?
Being your own boss is really kind of the best – though of course, the flip side is that the job never ends and if things go wrong it's all on you. 
Name 3 of your favorite locations you've shot. Why were these your favorite?
American Southwest – epic landscapes around every corner 

Iceland – it's like another planet 

Japan – everything is strange and wonderful 
What is your dream location to shoot? Why?
I'd love to really get off the grid and spend some time making work somewhere remote – the steppes of Mongolia maybe? 
If you could live anywhere in the world, where would you live? Why?
I'd love to live in Europe – there's still a lot of the same problems that we face here in the US but I do think that they have it a bit more figured out when it comes to taking care of people and providing a better safety net. 
What are 5 things you can't live without?
iPhone, sneakers, music, good wine, adventure. 
Get to know Sam on Instagram @Samhorine or visit his website to check out his work at www.samhorine.com.