A 2019 study commissioned by the WWF and performed by the University of Newcastle, Australia revealed that people could be consuming approximately 2000 tiny pieces of plastic per week–which equates to about a credit card's worth of plastic! That also equates to about 70,000 pieces a year or 100 pieces per meal–scary, right?
These tiny pieces of plastic are known as "microplastics" which are defined as broken down plastic no larger than five millimeters. Your next question might be, "how is anyone consuming this much plastic?" 
Aside from the infamous "island of trash" located in the Pacific Ocean, there are many parts of the ocean where trash accumulates and interferes with marine life. According to a 2016 study by the World Economic Forum, 8 million metric tons of plastic enter the ocean every year. The microplastics degrade and release toxins into the ocean and are ingested by marine life. For us seafood eaters, this has indications for the number of microplastics we're consuming and in turn, toxins we're absorbing. In fact, microplastics can be found anywhere from your food to your bottled water, to beer, and even in the air. Plastics also leach toxic chemicals into food through packaging or contact with heat and trace amounts are found in beer bottles. It's almost unavoidable at this point, posing unknown health risks to humans. Chemicals used to produce plastic such as phthalates and Bisphenol-A (BPA) are known toxins that could lead to certain diseases and cancers. Studies have shown that nursing or pregnant women should avoid exposure to plastics in the same way one should avoid alcohol and cigarettes due to the potential absorption of these chemicals by their offspring. This includes avoiding bottled water, food that's packaged in plastic, takeout containers, fragrances (which usually contain phthalates), and using non-plastic food containers.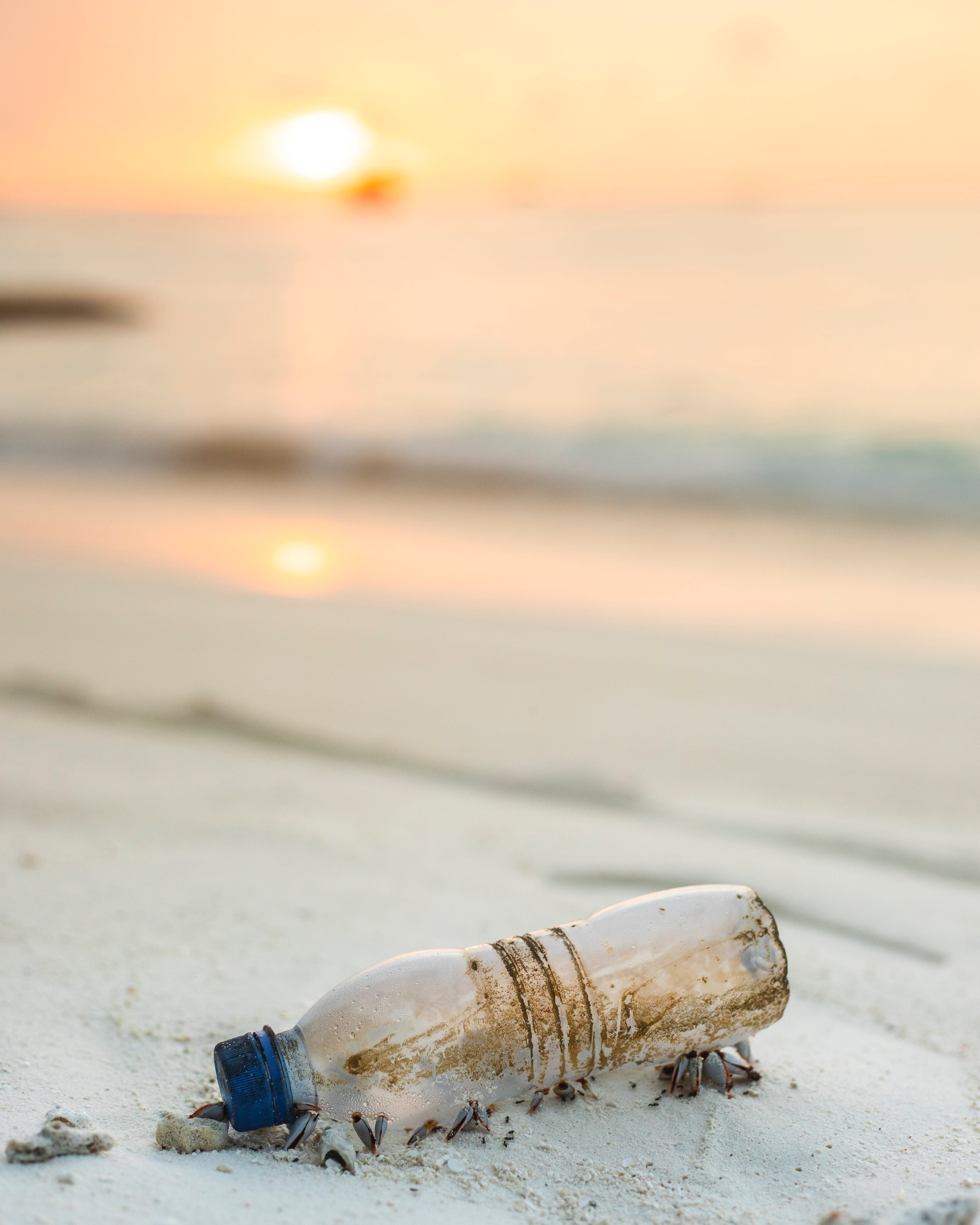 In a study by Nature Geoscience in 2017, data indicated that 79% of all the plastics produced by humans have ended up in nature or landfills. According to this study, most of the particles found in plastic water bottles were polypropylene–the type of plastic used to make bottled water caps. This finding suggests that the process of bottling water is contributing to most of the plastic. In fact, plastic found in bottled water was twice the amount of plastic found in tap water or beer, which shows that although bottled water is marketed to be "cleaner" than tap water, it is certainly is not the case. Americans buy 50 million plastic bottles of water annually. Globally, about 1 million single-use plastic bottles are purchased per minute. If we don't act now, this number is expected to increase by 20% by 2021. Considering this, it's a worthwhile cause to reduce or eliminate bottled water from your daily life altogether and invest in a sustainable water bottle. And that is why we created the LARQ Bottle–a sustainable water bottle that self-cleans and purifies water simultaneously using PureVis™ UV-C light, solving your most glaring issues with traditional reusable water bottles. 
In addition to plastic bottles, any plastic waste that can be avoided should be avoided. The ocean and waterways are littered with plastics straws, takeout boxes, plastic grocery bags, and other plastics. Which begs the question: couldn't we just recycle these plastics? –the answer is no, we can't. Most single-use plastics are not recyclable for a variety of reasons, whether it's due to the chemical composition of the plastic or due to the lack of infrastructure to do so efficiently. Only a meager 9% of all plastic ever produced has actually been recycled. 
In this day and age, it's difficult to avoid plastic altogether, but we can all make small changes and increase awareness about the issue of plastic to pave the way for a better, more sustainable future.